Quality and Consistency You Can Count On
Our company history is grounded in producing the highest quality meatballs on the market. It's what has helped to establish Rosina as an industry leading meatball manufacturer, since 1963.
By using only the finest and freshest ingredients we ensure that your meatball ingredients consistently deliver the highest level of customer satisfaction.
Made from the highest quality meat to ensure the most delicious flavor profiles
Our Romano cheese – imported Pecorino Romano (Sheep's milk) – is aged to enhance the flavor
We use real breadcrumbs consisting of wheat, flour, salt and yeast
Oven-baked, not fried to deliver better health benefits
Sear-sealed to lock in flavor
Dedicated QA team monitors the quality, weights and shapes to ensure product consistency
Diverse and Delicious
Rosina offers you one of the ingredient industry's most diverse and delicious line-ups of meatball flavors and styles. This helps you expand the creativity of your recipes while helping you take advantage of current flavor and nutritional trends.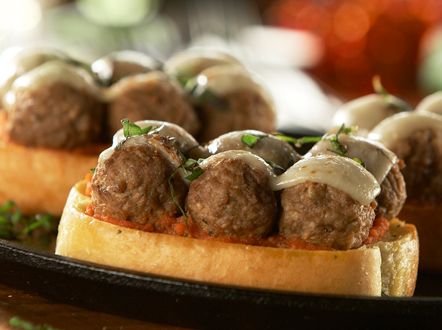 Italian
Homestyle
Angus
Swedish
Beef
Pork
Turkey
Chicken
Buffalo Style
Italian Sausage
Soy Free
Gluten Free
All Natural
Grass Fed
Antibiotic and Hormone Free
Organic
Mini / Wedding Soup
Don't see the flavor or style you need? Rosina can create customized flavor and styles to meet your exact specifications. Complete the contact form on this page.
Size Matters:
Rosina offers a number of meatball sizes to accommodate your ingredient requirements – from larger dinner meatballs, to sizes that are perfect for appetizers and sandwiches, to meatball pieces for use as a pizza topping and our wedding soup meatballs.

Experience the Rosina Difference