Cutlets and Rollettes For All Occasions
Whatever your needs for Eggplant, Rosina has the product.
No one offers more choices of Eggplant than Rosina. There's the lightly breaded, traditional and battered cutlets, in round and Naples cut, which are perfect when developing that authentic eggplant parmigiana recipe. Get creative with our delicious eggplant rollettes by serving it as a side or main dish.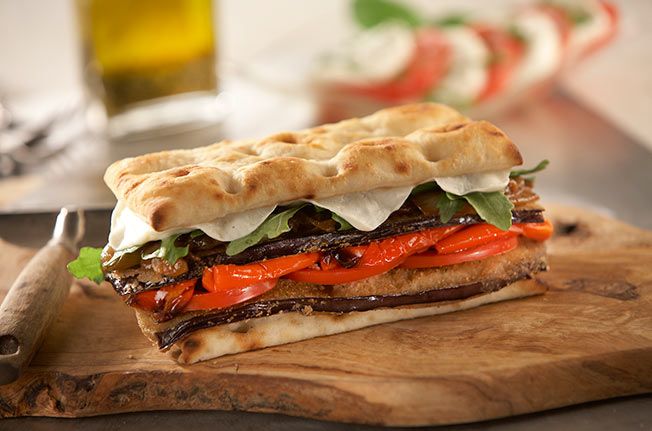 Foodservice Eggplant Products
| Item Code | Description | Piece Wt. | Pack Style | Net Wt. | Piece Ct./Case |
| --- | --- | --- | --- | --- | --- |
| 48-60100 | Celentano Breaded Eggplant Cutlets Naples/Skin On | 1/4" | 2/5# Bags | 10.00 Lbs. | 64 |
| 48-60170 | Celentano Breaded Eggplant Cutlets Round/Skin On | 1/4" | 2/5# Bags | 10.00 Lbs. | 110 |
| 48-40304-100 | Rosina Breaded Eggplant Cutlets Naples/Skin On | 1/4" | 2/5# Bags | 10.00 Lbs. | 66 |
| 48-48033-100 | Rosina Breaded Eggplant Cutlets Naples/Peeled | 1/4" | 2/5# Bags | 10.00 Lbs. | 70 |
| 48-48001-100 | Rosina Breaded Eggplant Cutlets Round/Peeled | 1/4" | 2/5# Bags | 10.00 Lbs. | 100 |
| 48-40253-100 | Rosina Breaded Eggplant Cutlets Round/Peeled | 3/8" | 2/5# Bags | 10.00 Lbs. | 90 |
| 48-48032-100 | Rosina Battered Eggplant Cutlets Naples/Peeled | 1/4" | 2/5# Bags | 10.00 Lbs. | 70 |
| 48-40221-100 | Rosina Battered Eggplant Cutlets Round/Peeled | 1/4" | 2/5# Bags | 10.00 Lbs. | 110 |
| 48-48291-100 | Rosina IQF Cheese Eggplant Rollettes/Skin On | 4-5 Oz. | 1/12# Bag | 12.00 Lbs. | 38 (Minimum) |
| 48-07029-132 | San Rallo Breaded Eggplant Cutlets Naples/Skinless | 3/8" | 2/5# Bags | 10.00 Lbs. | 54 |
| 48-07030-132 | San Rallo Breaded Eggplant Cutlets Round/Skinless | 3/8" | 2/5# Bags | 10.00 Lbs. | 84 |
| 48-07065-132 | San Rallo Battered Eggplant Cutlets Naples/Skinless | 3/8" | 2/5# Bags | 10.00 Lbs. | 54 |
| 48-07064-132 | San Rallo Battered Eggplant Cutlets Round/Skinless | 3/8" | 2/5# Bags | 10.00 Lbs. | 84 |
| 48-07061-132 | San Rallo Breaded Eggplant Cutlets Naples/Skin On | 3/8" | 2/5# Bags | 10.00 Lbs. | 42 |
| 48-07021-132 | San Rallo Eggplant Rollettes Skinless | 3.5 Oz. | 16/4 Ct. Trays | 14.00 Lbs. | 64 |
| 48-07028-132 | San Rallo Eggplant Rollettes Skin On | 3.5 Oz. | 16/4 Ct. Trays | 14.00 Lbs. | 64 |